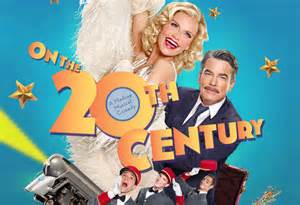 The weather has not been kind to On the Twentieth Century, the Roundabout's revival starring Kristin Chenoweth and Peter Gallagher. The musical farce, which won five Tonys when it premiered on Broadway in 1978, is now in rehearsals for its first Broadway revival. The first preview has been postponed by one day and is now set for February 13.
The show, which is scheduled to open March 12 at the American Airlines Theatre, is to have a limited run and will close on July 5, 2015. Along with Chenoweth and Gallagher, the Roundabout production also includes Andy Karl (Bruce Granit), Mark Linn-Baker (Oliver Webb), Michael McGrath (Owen O'Malley), Mary Louise Wilson (Letitia Primrose), and an ensemble of 18.
The Show
With music by Cy Coleman and lyrics and book by Betty Comden and Adolph Green, the show, which is set on the luxury train The Twentieth Century, involves a desperate Broadway producer, Oscar Jaffe (Gallagher), attempting to convince a former Broadway now Hollywood star, Lily Garland (Chenoweth), to return to The Great White way in an epic drama about Mary Magdalene. The show does not exist, but Jaffe, who has had four flops in a row, is desperate to re-establish his reputation on Broadway, and he needs his former lover and muse under contract in order to have the juice to do so. Add to the mix a young, jealous, and not so bright Hollywood leading man, a religious fanatic, and a whole lot of other folks who simply complicate everything and you've got a screwball comedy.
The Production
The Broadway premiere of On the Twentieth Century opened on February 19, 1978 at the St. James Theatre and ran for 11 previews and 448 performances. It starred John Cullum, Madeline Khan, Imogene Coca, and Kevin Kline. Hal Prince directed, as the show won Tonys for Best Book of a Musical and Best Original Score. Cullum and Kline also won Tonys.
The Roundabout production includes additional lyrics by Amanda Green, direction by Scott Ellis, and choreography by Warren Carlyle.