Please see guest author Coni Koepfinger's bio below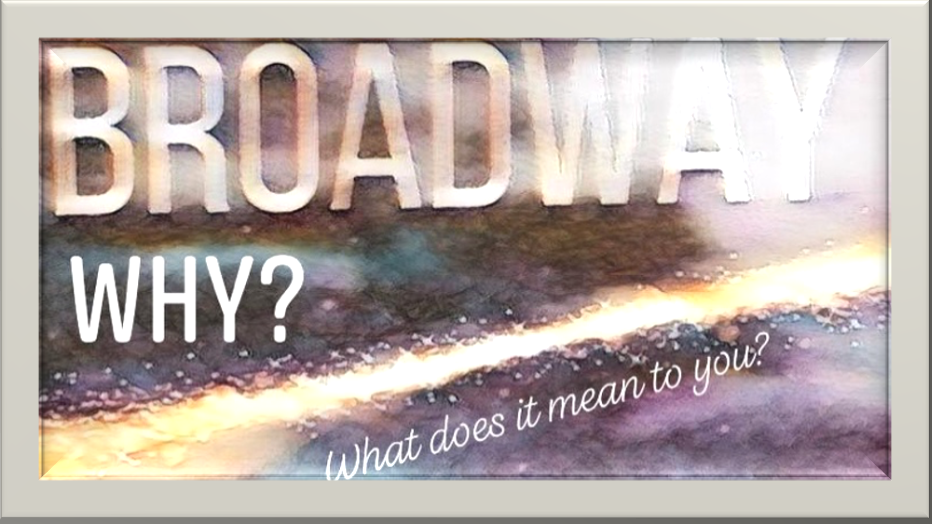 Why Broadway? The term "Broadway" originated because of the street's uncommon width. However, it has become synonymous with professional theatre. Here artists creating new works can reach the widest and most diverse audiences. Imagine, a playwright, an actor, a director, or a producer, having so much faith in what they are doing that they collectively labor, often without regular compensation, to bring their work to life. All with the goal of seeing it on a Broadway stage. We know it costs a lot to get a show produced on Broadway and ticket prices aren't exactly pocket change. So let us ask… Why Broadway? What draws so many people to this avenue in Manhattan?
Why Broadway – An Artist's Point of View
Playwright, lyricist, and composer, Sharon Barnett, whose work includes Sammy's Bowery Follies, exclaims, "I love Broadway! From an early age, I would walk down its streets and dream. I imagined my name in lights and myself on the stage taking bows. For the last 18 months, nobody knew if we would ever see those lights shining brightly again, but yesterday, on September 14, 2021, the bows and the applause were back. Now dreams, once again, are becoming a magnificent reality."
Broadway – Another View
Let's look at the other side of the curtain concerning Why Broadway? Here's the view of someone from the audience.
"It is important to be passionate about SOMETHING and I have been passionate about BROADWAY since my English teacher, Mrs. Sarah Gold, took our high school class to see The Most Happy Fella in 1957," proclaims Robert Diamant, social studies teacher and assistant principal at New York City's Dept. of Education. "I have been fortunate to reside in NYC since 1942 and have attended hundreds of musicals, comedies and dramas over the years. My passion about this genre has included collecting original cast albums, posters, refrigerator magnets, and t-shirts. I have written grants allowing me to take my high school students to Off-Broadway and Broadway shows. I have joined many online groups and have communicated with like-minded individuals over the years. I have collected scores of books and magazines covering Broadway, historically and currently. I cannot wait to start going to the theater again! THAT is what BROADWAY means to this almost 80-year-old!"
In the Beginning to Why Broadway?
Another Broadway fan, Teri Wessell shares her feelings about it. Definitively describing the experience, she observes, "Being fully engaged, enlightened, entertained and wanting it again."
And those words fundamentally sum up not just Broadway, but also the original purpose of theatre when it was born. That was in Athens in the 6th century BCE when the first actor, Thespis, stepped out of the chorus to tell his story. The Ancient Greeks knew that they were beholding something special, something vital to our way of life. They affirmed that theatre was created to entertain, to educate, and to exult the human spirit.
So, perhaps by creating Broadway again and again, we are reaching the broadest audience imaginable while engaging in important work. Perhaps, on Broadway we have the opportunity to plant the seeds of a new humanity… Thus, our love, passion, and enlightenment have a place to take root, sprout, be nourished, and flourish. Why Broadway? It's a short question with an ever-deepening answer.
About Our Guest Author
Coni Koepfinger, a 2021 recipient of the Olwen Wymark Award by the Writers Guild of Great Britain, is currently playwright-in-residence at Manhattan Rep and has worked with the Unfringed Fest NYC, Broadway Bound Festival and Pan Asian Rep. Coni has connected hundreds through her virtual programs Airplay and Determined Women. She has been a member of the Dramatist Guild, the International Centre for Women Playwrights and the League Professional Theatre Women and currently sits as Media Advisory Board of the Lifeboat Foundation.
Ms. Koepfinger is also the author of the article Imagination and Beyond the Curtain, which may be found on Broadway Educators.
To read All Tickets Inc.'s Buzz Stream article on Live from the Bardo: My Dinner with Mary click here.
Coni Koepfinger and Dan Carter's Live from the Bardo: My Dinner with Mary premieres January 13-30, 2022, at Theater for the New City, New York City. For more information, please follow this link.