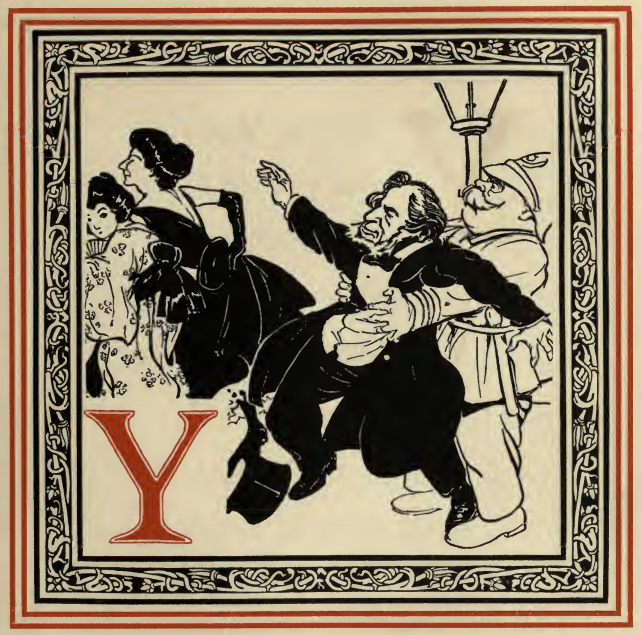 The Players (or the Players Club) is a private social club. It was founded in 1888 in New York City by actor Edwin Booth. Booth was often regarded as the greatest actor of his time. It was created in response to a perception that the theatre suffered due to a lack of interaction with the wider world of culture, literature, and art.
Booth purchased a mansion at 16 Gramercy Park and turned it into a social club for an eclectic range of artists of all types with the intention of integrating membership from the international theatre community. The club continues to this day.
Oliver Herford (1860 – 1935) was an English writer, humorist, artist, and illustrator. He was a longtime member of The Players.
Herford wrote much more than just satire, but his writing and illustration as a humorist resonate more than a century later.
In 1899 he published An Alphabet of Celebrities. It was formatted like a children's primer, but the content was trendy, witty, and farcical. It is filled with comedic jabs at every notable household name of the time. This included actors, playwrights, novelists, politicians, world leaders, Biblical personas, characters in popular fiction, and many more.
The entire book is illustrations. The printing process allowed only two colors of ink and included no half-tones. He captures the likenesses of celebrities and historical figures and manages to lampoon them in every kind of comedic state.
Click on the pages in the embedded media below to review the entire book.
Sarah Bernhardt was one of the very most prominent and renowned stage actresses of her time plus a contemporary of Herford and fellow Players Club member.
Here, she seems to be sending current & historical leaders into comas, along with a
figure from the New Testament.
Playwright Henrik Ibsen was another contemporary of Herford, as was Actor Sir Henry Irving and writer Robert G. Ingersoll. This book is more than a whimsical tour through the alphabet; Herford is systematically razzing everyone in his circle.
When you look up photos of these people, the caricatures are spot-on, too!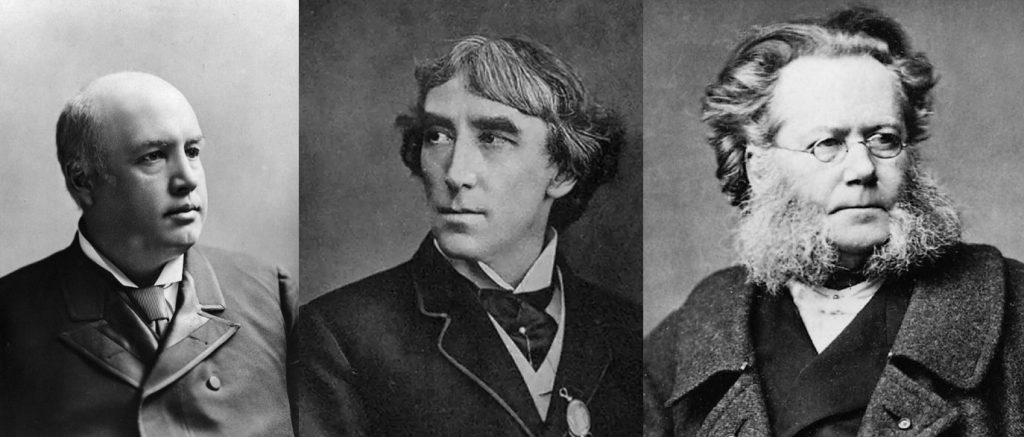 This one might be my favorite. Yvette Guilbert (born Emma Laure Esther Guilbert ) was a French cabaret singer and actress of the Belle Époque. Yum Yum is the heroine in The Mikado operetta by Gilbert and Sullivan (originally opened in 1885). Brigham Young, of course, was the second president of The Church of Jesus Christ of Latter-day Saints (LDS Church) from 1847 until his death in 1877 (not long before this publication). He had 55 wives and 56 children. Here he is so intent on pursuing Yvette and Yum Yum that he must be restrained by an unidentified police officer.
The internet makes the entire book into a rewarding scavenger hunt. Plugging each character name into a search results in (really nerdy) laughs.
I do not expect everyone who reads this to take the time to look up every character in this book.
But I know that some of you (and you already know who you are), most definitely, will.