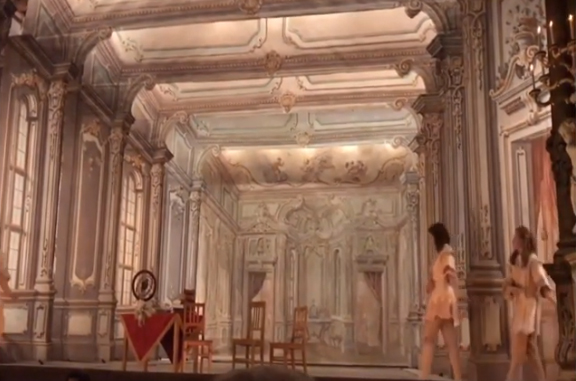 Our methods of producing spectacle evolve across the decades. New technology is not necessarily more miraculous than the older methods. Every era has its own special stage magic. 17th century Europe enjoyed theaters equipped with wing-and-drop scenery combined with the pole-and-chariot system.
Český Krumlov is in the southern Czech Republic. There, The Castle Theatre sits behind the moat near one wing of the castle. A Baroque theatre space with fully functioning machinery survives there today.
A pole-and-chariot system is a method for moving scenery. There are slots in the floor. Wall sections or other scenic elements are carried on vertical poles that extend down through the stage into a machine-room below-deck.
A wing-and-drop set is a set made up of shaped and painted 2D elements, usually fabric. These include vertical pieces on the side and horizontal pieces across the top. Together with a backdrop, they often include forced perspective to create the illusion of a grandiose interior or exterior. By changing the elements quickly with machinery, the entire setting is changed.