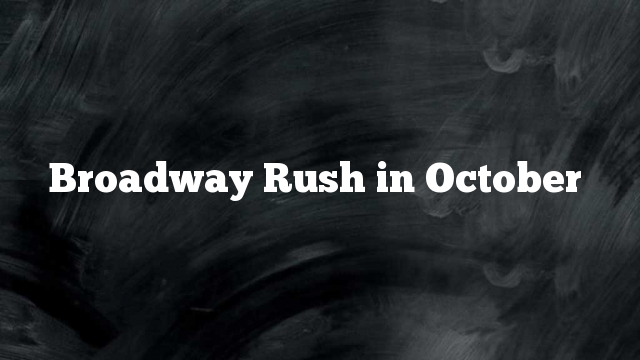 If you're like me and you love theatre but you don't have the money to buy center orchestra seats, you've got to rush! Whenever I visit New York to see a show, I use the Playbill Rush, Lottery, and Standing Room link to see which of my top picks are offering deals. If the show I really want to see isn't available, I'll buy some inexpensive balcony seats and pull out the opera glasses. However, I get so frustrated when my friends go to the TKTS line and wait forever to pay more for tickets that are on this list.
The Thrill of the Chase
Broadway Rush and Lottery are not for the faint of heart. They require a lot of walking, a lot of waiting, and sometimes rejection… For rush, you have to head to the theatre before the box office opens, wait in line, and see if they have any seats available to sell in student or general rush that day. Oftentimes, rush seats are near the front and they may have chosen to sell them instead of saving them at rush prices. That is at the discretion of the box office and you won't know until they open if those seats are available. The limit is two tickets per person.
Lottery takes place at the box office or digitally. Download the TodayTix application, submit your information (The time submissions open is up to the box office and you can also see those times on the rush website.), if you win you will be notified and each box office has different time limits to when you need to get back to them to claim your earnings.
Shows with General Rush
This is usually the route I take when I purchase tickets. I plan a route to run back and forth between theatres in case my top contenders don't yield success. It's like the best Broadway scavenger hunt and is a pretty fun thing to do with the right friends. Check out some of the titles for general and student rush:
Beautiful: The Carole King Musical $40 General Rush
A Bronx Tale $39 General Rush
Charlie and the Chocolate Factory $40 General Rush
Chicago $36.50 General Rush
Come From Away $38 General Rush
A Doll House: Part 2 $30 General Rush
Miss Saigon $39 General Rush
The Play That Goes Wrong $30 General Rush
Prince of Broadway $30 Student Rush & 30 Under 30 Rush
School of Rock $39 General Rush
Have you recently won Broadway lottery for a show and want to boast about it? Let us know on Twitter @AllTicketsInc!