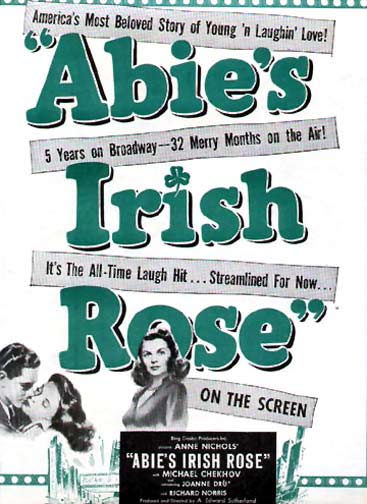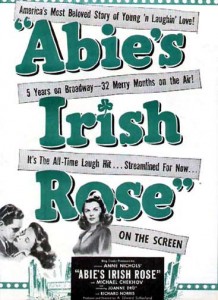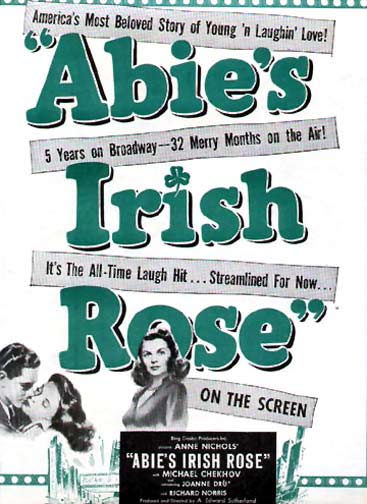 Abie's Irish Rose was a Broadway comedy by Anne Nichols. It enjoyed a special combination of fame and notoriety that few shows manage to reach. The show was about an Irish Catholic girl and a young Jewish man. They get married over the objections of both of their families, with a lot of drama.
It opened on May 23, 1922, and ran for 2327 performances, closing over five years later. At the time, that was the longest run in Broadway history.
It must have been a great show.
But not according to the critics.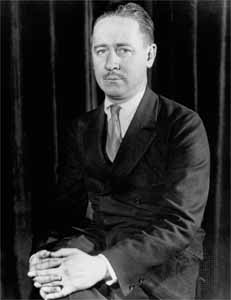 Abie's Irish Rose  was loved by the general public and utterly hated by the critics (a similar place of honor might exist for the much more recent Spider-Man: Turn Off the Dark, but that's another story).
Robert Benchley was, at that time, the theatre critic for Life Magazine. A part of that job was to create short, capsule reviews of the current shows, each week.
A selection of his capsule reviews for
Abie's Irish Rose
:
"The comic spirit of 1876."
"Just about as low as good clean fun can get."
"All right if you never went beyond the fourth grade."
"Something Awful."
"Showing that the Jews and the Irish crack equally old jokes."
"Will the Marines never come?"
"People laugh at this every night, which proves why a democracy can never be a success."
"Where do people come from who keep this going? You don't see them out in the daytime."
"The management sent us some pencils for Christmas, so maybe it isn't so bad after all."
"We refuse to answer on advice of council."
"Closing soon. (Only fooling!)"
"We may as well say it now as later. We don't like this play."
"Probably the funniest and most stimulating play ever written by an American. (Now, let's see what that will do.)"
"There is no letter "W" in the French language."
"In another two or three years, we'll have this show driven out of town."
"Four years old this week. Three ounces of drinking-iodine, please."
"See Hebrews 13:8." [a Biblical passage that read, "Jesus Christ, the same yesterday, and today, and forever."]
"For the best comment to go in this space, we will give two tickets to the play. Contest for the best line closes at midnight on January 8. At present, Mr. Arthur Marx is leading with 'No worse than a bad cold.'"