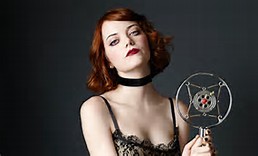 Emma Stone and Bradley Cooper, both Oscar nominees this year, are doing big box office on Broadway. Stone, who has been appearing as Sally Bowles opposite Allan Cumming in Cabaret, was nominated for her work on Birdman, which starred Michael Keaton. Cooper, who is playing the lead in The Elephant Man on Broadway in a production that will transfer to London, is nominated for American Sniper.
Time Running Out to Catch Their Performances
Stone finishes her run this week and Cooper will be done some time prior to the February 22 Oscar telecast. With the Oscar nods and little time left to see these two stars, there's been a lot of pressure on those selling tickets. Both shows are selling well.
For the week ending Feb 8, Cabaret sold at 98.2% of capacity, while The Elephant Man topped off at 100.2%. Cabaret was up 3.6% from the week before and The Elephant Man saw an increase of 4.7%. The musical brought in close to $36, 500 more than the week prior and the play did over $255,000 more in business.
Cabaret Replacement
Staring February 17, Cabaret will welcome film actress Sienna Miller to the cast. Miller, who can be seen in the films American Sniper and Foxcatcher, will be making her Broadway debut as Stone's replacement. She'll perform with Alan Cumming, who has been playing the emcee since the Roundabout production opened in April. Miller is scheduled to be on the boards until March 29.