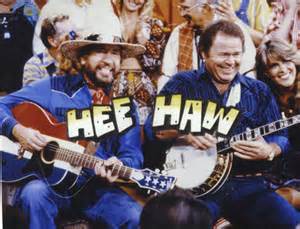 Moonshine: That Hee Haw Musical will have its world premiere at the Dallas Theater Center this fall, running from September 2 through October 11. Hew Haw, the extremely popular country music variety show, which ran from June 15, 1969 to September 19, 1992, was set in Kornfield Kounty. It included some of the best pickers and grinners in the business, including Roy Clark and Buck Owens; comedy sketches, and many pretty ladies.
Hew Haw Musical
Directed by Gary Griffin, Moonshine: That Hee Haw Musical, the show features a book by Robert Horn and a score by two country music stars: 2015 Grammy nominee Brandy Clark and Shane McAnally. Like the TV show, the stage musical takes place in present day Kornfield Kounty.
The musical tells the story of Misty Mae. She is a beautiful, hometown country gal who has very big dreams that reside in the big city of Tampa. She follows those dreams and then returns to Kornfield Kounty with a new heartthrob. Her slick boyfriend does not impress Misty Mae's family or friends. Has love blinded this country girl; is the love of her life a fancy city grafter; will life ever be normal again? These are just a few of the pressing questions in Moonshine: That Hee Haw Musical.
Is Broadway Possible?
There has been no formal Broadway announcement regarding Moonshine: That Hee Haw Musical. The musical did have a reading in December 2013. But the creative are first class and include set design by John Lee Beatty, costumes by Mara Blumenfeld, and choreography by Denis Jones. Director Griffin made his Broadway debut in 2005 when he helmed The Color Purple.