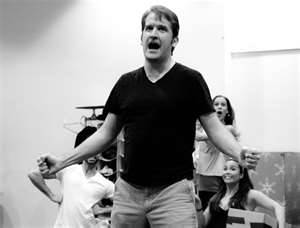 It's been announced that the Roundabout's revival of On the Twentieth Century at the American Airlines Theatre will be back on track today. The show did not go on last night as one of the stars, Peter Gallagher, was unable to perform due to vocal problems. It's been reported that Gallagher has been rehearsing and performing all week with a cold and that it finally got the best of him. To complicate things, the understudy was not yet ready to perform. That combination of factors meant that the performance had to be cancelled.
Brakes Put on Last Minute
Although some audience members were irritated that the cancellation of On the Twentieth Century was announced right about curtain time, Kristin Chenoweth, who came out to make the announcement with director Scott Ellis, made every effort to smooth things over.
After explaining the predicament, Chenoweth offered the sold out house a rendition of the Charlie Chaplin classic "Smile." Then she asked the four actors who play the porters in On the Twentieth Century to come out and they performed the tap dance number "Life is Like a Train". It was a huge audience pleaser.
Tough Sell
It's not easy to cancel a performance on a Saturday night, which is the most attended performance time of the theatre week, but due to the fact that the show is still in previews Gallagher's understudy, James Moye, was not fully rehearsed. This is not unusual to have this situation at this point in the production process, as the show is still being refined and changes continue to be made. Plus, along with learning Gallagher's role, Moye, who is part of the ensemble, must know his ensemble duties in the show.
The Show Will Go On
The latest news from On the Twentieth Century is that Moye rehearsed last night after the cancellation and will be able to perform in Gallagher's stead. Showtime is 2 pm. Gallagher is day-to-day.