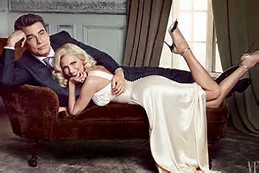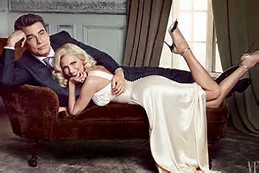 Peter Gallagher has been out of On the Twentieth Century since last Saturday (February 21) when the Roundabout was forced to cancel the evening performance. Gallagher is reported to be suffering from a severe sinus infection, which has affected his ability to sing.
James Moye, his understudy, has been playing the role of Oscar Jaffe since Sunday, February 22. When Gallagher became too ill to perform director Scott Ellis decided that it would be dangerous for Moye to perform Saturday night due to where they were in the development of the production. Thus, Saturday night's show was cancelled.
Kristin Chenoweth (Lily Garland) and Ellis came out to announce the cancellation of the performance. After the announcement, Chenoweth sang "Smile" for the Saturday night audience and then a dance number was performed from the show that featured the porters. It brought the house down. After that, the audience was dismissed and Moye rehearsed and was ready to go on Sunday afternoon.
In 1978, when On the Twentieth Century premiered, it won numerous Tonys including Best Musical and Best Score. With music by Cy Coleman and book and lyrics by Betty Comden and Adolph Green, the musical offers audiences a screwball comedy that is set aboard the luxury train the Twentieth Century.
Oscar Jaffe, a producer who has suffered a series of Broadway flops, is on the fabled train with his former muse, love, and Broadway star Lily Garland. Garland gave up the stage to be a film star and Jaffe firmly believes that if he can get her to commit to star in a new Broadway show that his career will be saved. Add to that plot a group of unique characters, great dance numbers and songs, and a whole lot of creative scenography and directing, and you've got a hit Broadway show.
The Roundabout production is the first Broadway revival of On the Twentieth Century. It is scheduled to open March 12 and run until July 5.