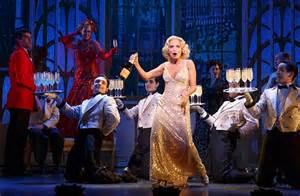 Once again, On the Twentieth Century has experienced a schedule snag as producers have decided to delay opening night by three days. That means the Broadway revival of the Coleman, Comden, and Green musical will March 15 instead of 12. Earlier, due to delays associated with inclement weather, the Roundabout delayed the show's preview by one day, and then, a week from this past Saturday, the decision was made to cancel the evening performance due to Peter Gallagher's (Oscar Jaffe) illness and the fact that his understudy had not yet had enough rehearsal to go on in his stead. The show did go on the next day with understudy James Moye in the role of Jaffe.
Reason for Latest Delay
The three-day delay is reasonable, as co-star Peter Gallagher has missed an entire week of previews due to a sinus infection. For the past week, co-star Kristin Chenoweth (Lilly Garland) has been playing opposite Moye. Gallagher is due to return tomorrow, which will offer him about a week-and-a-half of previews before opening night.
The Story
On the Twentieth Century, which was the big Tony-winner when it premiered in 1978, is a wacky comedy set on a luxury train that's been given the appellation The Twentieth Century. The train is filled with an array of rich and funny characters, including desperate Broadway producer Oscar Jaffe, former Broadway star and now film queen Lilly Garland, Garland's jealous and egotistical boyfriend, and a crazed but extremely benign religious extremist.
As the train rumbles along, these characters are driven: some are driven into each other's arms, others are driven to scheme, while others are driven to follow their convictions. The extreme drives of the various characters collide to create mayhem, madness, and mischief. There are wonderful comic scenes, great gags and lines, and a lot of wonderful duets, solos, and production numbers.
The original production of On the Twentieth Century was nominated for nine Tonys. It received five, including Best Book and Best Score. It was also nominated for four Drama Desk Awards, winning four including Outstanding Music.
On the Right Track?
Can anyone get this train to run on time? Actually, it's expected that the show will be fine and that the Roundabout and director Scott Ellis are being prudent in waiting to open. On the Twentieth Century a physical play, and Gallagher will have to work his way back into it. Aspects of this production were still being refined when he took ill. For the week that Gallagher was out, ticket sales were down for the musical comedy with capacity falling 9.4% from 97.7% to 83.3%. Look for a rise in ticket sales with Gallagher back.