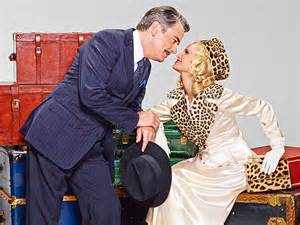 Peter Gallagher is currently in previews with Kristin Chenoweth in the Roundabout's production of On the Twentieth Century. Although most people came to know Gallagher through his movie roles, especially the hit film Sex, Lies, and Video Tape (1989), in which he starred with James Spader, Andie MacDowell, and Laura San Giacomo, Gallagher had already been in five Broadway shows before that movie was released and made him a star.
How much do you know about Peter Gallagher? Hopefully, no matter how much you know, you'll learn something from our 10 Fast Trivia Facts.
10 Fast Trivia Facts about Peter Gallagher
Made his Broadway debut in 1972 as a replacement for Danny Zuko in the original production of Grease.
From 1973-1977 he attended Tufts University where he sang in the university a capella group the Beelzebubs.
He appeared on Broadway as Edmund Tyrone in the 1986 revival of Long Day's Journey Into Night with Jack Lemon, Bethel Leslie, and Kevin Spacey and received a Tony nomination.
He's been married to producer Paula Wildash since 1983.
In 1979 he played Chuck Haskell in the TV soap opera The Guiding Light.
His autobiographical cabaret show is called Songs and Stories from an Actor's Life
He loves to play golf.
He has two kids, a son James Gallagher (born 1990) and daughter Kathryn Gallagher (born 1993).
His middle name is Killian.
From 2003 to 2007, Gallagher starred as Sandy Cohen, a Jewish public defender and corporate lawyer, on the Fox television show The O.C.
On the Twentieth Century
On the Twentieth Century is now in Previews at the American Airlines Theatre. It is scheduled to open March 15. The show is a madcap, musical comedy about Oscar Jaffe (Gallagher), a struggling Broadway producer who cannot afford another flop, Jaffe is sure that if he can convince Lily Garland (Chenoweth), a successful film actress who is also his former lover and muse, to come back to the Great White Way in an monumental drama that his career will once again take off. However, the drama, which takes as its subject Mary Magdalene, does not actually exist.
As he fights to get Garland to commit to the new show, Jaffe must also deal with a range of miscues, surprises, and off-the-wall characters, including Lily Garland's jealous new lover and a religious fanatic. It is all set aboard the luxury train that has been christened The Twentieth Century.