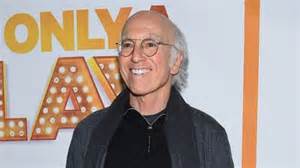 It's been an interesting week on Broadway, as four of five top shows in terms of capacity were plays and not musicals. Musicals topped the list of grosses, with four of the top five being tuners, but that's partly because musicals tend to be playing in larger houses and tickets to these shows are pricier. You might think that a majority of the plays at the top of the list would be comedies, but only one, Fish in the Dark, is.
Fish in the Dark
The play by and starring Larry David, Fish in the Dark, seems to be an instant hit with a ready-made cult following who love his show Curb Your Enthusiasm and are big fans of his co-creation Seinfeld. A Fish in the Dark grossed just under one million last week and filled the theatre beyond seating capacity, coming in at 101.05%. The River, which stars Hugh Jackman, sold at 102.42% capacity, leading all shows, as The Book of Mormon, which was second to The Lion King in gross, selling $1,455,237 worth of tickets, was also second in capacity at 102.19%. Fourth and fifth in capacity were The Elephant Man (100.15%) and Constellations (98.69%).
Top and Bottom Grossing Show
This week the top grossing show, The Lion King, brought in $1,463,314. As noted, second was The Book of Mormon, while Wicked was third at $1,262,017, Aladdin fourth at $1,203,871, and Fish in the Dark fifth at $993,940.
Shows that are struggling at the box office include the musicals On the Town, Mamma Mia!, and Honeymoon in Vegas. All of these shows offer fairly light entertainment. Disgraced, which had a solid Off-Broadway run, seems to be unable to find an audience, as it is last in grosses, selling $333,741. Finishing close to Disgraced is the classic American comedy You Can't Take It with You, starring James Earl Jones. It grossed just $334,224.
Top and Bottom Five for the Week
Here's a quick summary of high and low grosses and capacities.
Tops (Gross)
The Lion King ($1,463,314)
The Book of Mormon ($1,455,237)
Wicked ($1,262,017)
Aladdin ($1,203,871)
Fish in the Dark ($993,940)*
Bottoms (Gross)
On the Town ($379,914)
Mamma Mia! ($362,236)
Honeymoon in Vegas ($359,163)
You Can't Take It With You ($334,224)
Disgraced ($333,741)
Tops (Capacity
The River (102.42%)
The Book of Mormon (102.19%)
Fish in the Dark (101.05%)*
The Elephant Man (100.15%)**
Constellations (98.69%)
Bottoms (Capacity)
Les Miserables (60.09%)
Mamma Mia! (55.29%)
You Can't Take It With You (52.50%)
Honeymoon in Vegas (51.63%)
On the Town (36.15%)