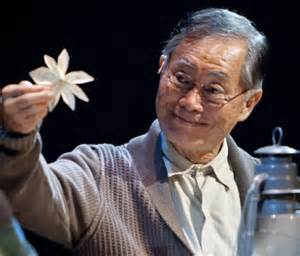 The Broadway musical Allegiance treats a subject matter that has been investigated in books and film but rarely on stage and certainly not in a memorable musical. Allegiance, a musical set 60 years after the attack on Pearl Harbor by the Japanese, is the story of a Japanese-American family forced to leave their California farm for an internment camp. Now seen by many historians as a terrible action by the U.S. government and as a black eye on the U.S., after Pearl Harbor thousands of Japanese-American families were forced to leave their homes and were remanded to these camps for years.
Allegiance The Musical
Allegiance, with a book by Marc Acito and music and lyrics by Jay Kuo, begins 60 years to the date after the attack on Pearl Harbor. A young reporter has tracked down World War II veteran Sam Otsuka (George Takei) and wants to know his story. Although Sam is reluctant to tell it, he does share what was his family's often painful and divisive journey during World War II.
Allegiance is a story of hopes betrayed but not lost and of the struggle of Sam, his sister, Kei, and the rest of his family. Sam and Kei must wrestle with extreme emotions that include patriotism and allegiance to America and the feelings they have for their Japanese roots and traditions. In this musical an entire world is transformed.
Opening Fall 2015
Although the theatre is not yet known, the dates are, as Allegiance is set to preview on Broadway starting October 6, 2015 and to open November 8, 2015. The musical is directed by Stafford Arima whose credits include the critically acclaimed Off-Broadway musical Altar Boyz and the "revisal" of the musical Carrie, which was also produced Off-Broadway. Arima directed the premiere production of Allegiance in 2012 at the Old Globe Theatre in San Diego. More information will be forthcoming on Allegiance.