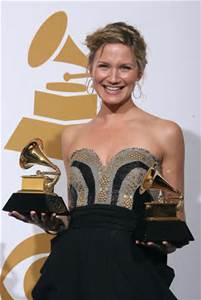 Jennifer Nettles, who formed the band Sugarland in 2003 with Kristian Bush and Kristen Hall, will open tonight as Roxie Hart in Broadway's longest running American musical Chicago. Nettles told PEOPLE in a recent interview, "I'm working my ass off and my feet hurt, but I'm having a ball." This is her Broadway debut.
Grammy Winner, Plus
In 2009, Nettles and Bush won two Grammys for their single, "Stay." She received a third Grammy for the work she did with Bon Jovi. She also recently released her first solo album, and she's been the CMA Country Christmas host. The extremely popular country performer has been up to this latest challenge.
In her interview with PEOPLE, she noted that learning the choreography was the toughest chore of her new adventure. Nettles joked, "I don't want to look like a hack up there," and added, "I'll be standing beside fantastic veterans of Broadway and I want to feel comfortable. I don't want to be the weakest link. And if I am going to be the weakest link, I want to be the strongest one they've worked with!"
Also Joining the Company
Nettles is certainly in good company, as Broadway vet Carly Hughes will also join the cast at the Ambassador Theatre. Hughes' Broadway credits are extensive and include Pippin, Beautiful, Ghost, and The Book of Mormon. She also appeared on Broadway in Ragtime, The 25th Annual Putnam County Spelling Bee. and Dr. Seuss' How the Grinch Stole Christmas.
Other Chicago cast members include Alexander Gemignani as Billy Flynn, Raymond Bokhour as Amos Hart, NaTasha Yvette Williams as Matron "Mama" Morton and R. Lowe as Mary Sunshine. Hughes will play Velma Kelly.
Break A Leg!
Of her foray into bright light of The Great White Way, Nettles said, "Broadway has always been a special, magical place, with a wonderful tradition of singers and actors. I feel honored and proud to be part of this great tradition. Taking on such an iconic role as Roxie in Chicago is a dream come true."
From Broadway IQ, we say "Break a Leg" to Nettles and Hughes as they start their run in Chicago. Nettles will play Hart through to March 29.