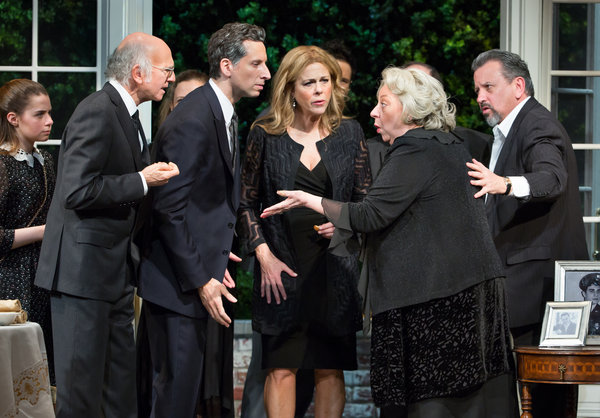 Yes, it is true that Larry David's Fish in the Dark is booked solid. It was an instant hit the first week pf previews. But now it's official as the first reviews come out. Reviewers are surprised not by the fact that the comedy is filled with and finds much of its comedy from David's neuroses, but that it's a relatively old-fashioned, you might say, "classic," comedy.
The reviews for Fish in the Dark are mixed.
Reviews Snippets
The reviews for Fish in the Dark were mixed. The Wall Street Journal thought Fish in the Dark was less of a play and more of a personal stage appearance and that David was uncomfortable on stage. The New York Times reviewer, Ben Brantley, said that he "laughed fully exactly once. The Washington Post called it a "middling comedy."
The Wrap, which was more positive than the WSJ , Times, or Post noted, "It's to be expected that Larry David's new play is laugh-out-loud funny. The big surprise, though, is just how sturdy and conventional his stage comedy is in an old-fashioned Broadway kind of way. David may have written cutting-edge TV, but "Fish in the Dark," which opened Thursday at the Cort Theatre, is anything but cutting-edge theater."
The Daily News was also fairly upbeat, saying, "Fans will be pleased to know that David, a Broadway rookie, holds his own with seasoned stage pros in this solid production helmed by Anna D. Shapiro ("August: Osage County"), who is as good as it gets for shaking hilarity from family dysfunction."
For Variety, Marilyn Stasio observed, "For anyone who's still reading this review, let me say that, contrary to rumor, the show is not a TV sitcom. It does, however, round up some outrageously funny Larry David-ish characters who could probably float such a show."
Stasio adds, "Helmer Anna D. Shapiro ("Of Mice and Men," "August: Osage County") has shrewdly surrounded her star with some of the best character actors in the business — Lewis J. Stadlen, Kenneth Tigar and the wonderful Marylouise Burke among them — to give master classes on how to time a laugh. There's a swarm of these pros playing the family friends and relatives who crowd the waiting room keeping the death watch for Sidney, who is showing a lot of spirit for a dying man. Just ask the pretty girl who makes the mistake of paying him a bedside visit."
The cast, as just about every reviewer admits, is stellar.
Record Breaker
No play in Broadway history has had $13.5 million in advanced ticket sales. Fish in the Dark for that fact alone is a record-setter. David fans are giddy with the show, reviewers are mixed, and producers are very happy. Fish in the Dark opened March 5 and is scheduled to close June 14.