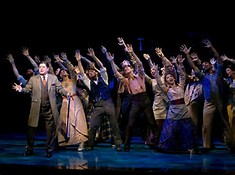 Finding Neverland, with a score by Gary Barlow and Eliot Kennedy and a book by James Graham, will begin previews at the Lunt-Fontanne Theatre on March 15 and will open on April 15. But the new musical may have an even more important performance date before its preview and opening, as the Daily Mail reports that Barlow and stage and screen star Bryan Cranston will be hosting a preview of the show for West End theatre managers and owners on February 26.
A Push Towards London
The push towards London at this time is aggressive in that the show, which was performed at the American Repertory Theatre in Cambridge, MA this past summer, is still working towards opening night on Broadway. Directed by ART Artistic Director Diane Paulus (Tony Award for Pippin and Hair), the musical has been generating some good buzz.
Finding Neverland is not unknown in England as it did make its world premiere at the Curve Theatre in Leicester in 2012. The ART version, which was the U.S. premiere, included a lot of reworking and rewriting. Refinement is ongoing.
The Musical
Finding Neverland is based on two sources- David Magee's Academy Award-winning motion picture of the same name and Allan Knee's play The Man Who Was Peter Pan. The musical finds British playwright J. M. Barrie much in the need for inspiration, and he discovers it through a chance meeting with a family. The meeting develops into a relationship that leads Barrie to write his best-known work, Peter Pan.
History of Finding Neverland
Although Finding Neverland made its premiere at the Curve Theatre in September 2012, Finding Neverland was to have first been produced in 2011 at the La Jolla Playhouse. But that premiere fell through. Rob Ashford directed the Curve Theatre production. At that time the show had an entirely different creative team that included Scott Frankel (music) and Michael Korie (lyrics) and Knee as the book writer. The musical was focused on a 2013 West End transfer, but it was plagued by mixed reviews and problems that brewed and festered backstage. Producer Harvey Weinstein then decided to replace the creative team, and, thus far, the results seem to be much more positive.