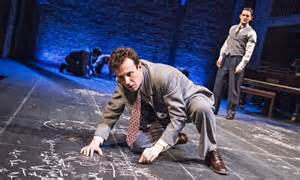 There's theatre news from London regarding Charlie and the Chocolate Factory, Oppenheimer, and Golem. Here's what's happening in London this week.
New Willy Wonka Announced
News is that Jonathan Slinger will play Willy Wonka in Charlie and the Chocolate Factory on London's West End. Slinger has a wide range of stage credits that include a wealth of Shakespearean roles. He has performed with the Royal Shakespeare Company, including appearing in the Complete Works and This England: The Histories cycles. He's played Richard II, Fluellen, Richard Duke of York, and Richard III, as well as Macbeth. He's also appeared in various other plays and musicals including The Duchess of Malfi, The Coast of Utopia, Yes, Prime Minister, Uncle Vanya, and Urinetown.
The musical, which is based on the 1964 children's book by Roald Dahl, presently stars Alex Jennings. Slinger will take over the role at the Theatre Royal Drury Lane staring May 4.
Oppenheimer
The play Oppenheimer by Tom Morton-Smith, which offers insights into the man who's considered to be the father of the atomic bomb, J. Robert Oppenheimer, will transfer from the Royal Shakespeare Company's Swan Theatre to the Vaudeville Theatre on the West End. Previews will begin on March 27 and the show will open on March 31. John Heffernan stars in the show. The play, which was commissioned by the RSC, reveals the personal cost one pays for creating history.
Golem Transfer
Golem, which enjoyed a strong run at the Young Vic, and which is directed by Suzanne Andrade, is scheduled to play a limited run at the Trafalgar Studios starting April 14 and closing May 22. Opening night is scheduled for April 22.
Golem offers a satirical slant on how society misuses and abuses technology. The show includes live performance and music, as well as film and animation. The focus of the story is on the character Robert Robertson, who is considered to be "extraordinarily ordinary." His life changes when he buys a Golem, which is designed to make his life more efficient. It does just that and that inspires Robert to upgrade to a Golem 2, which takes away all control of his life. What happens when machines run man? That's the ultimate question of Golem.
There will be more next Friday from Theatre IQ on London theatre notes, orts, and doings.