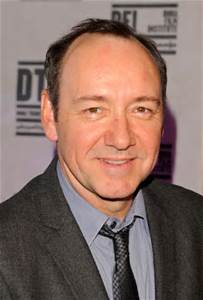 Kevin Spacey, who's a Tony and Oscar winner, will receive a Special Award at the Olivier Awards. Spacey will be presented with his Olivier on April 12 at London's Royal Opera House. The American actor, who has served as Artistic Director of the Old Vic for the past decade, is being given the award in order to acknowledge his extraordinary contribution to The Old Vic and to British theater.
Jonathan Groff in Musical Hamilton
Jonathan Groff will join the Off-Broadway run of Hamilton at the Public Theatre replacing Brian d'Arcy James. James will leave the show in order to star in the Broadway premiere of Something Rotten! Groff will play King George until the show closes on May 3. He is not confirmed as one of the cast members for the Broadway transfer.
The musical, which is written by and stars Lin-Manuel Miranda, opened a little over a week ago to rave notices. It was announced the other day that Hamilton will make a Broadway transfer to the Richard Rodgers Theatre in the summer and begin performances on July 13.
Lane Back to It's Only a Play
It's been announced that after Nathan Lane finishes his run at the Brooklyn Academy of Musical in The Ice Man Cometh he will return to the comic hit It's Only a Play, which also stars Matthew Broderick. It has been rumored that Lane and the Ice Man Cometh company may take the show to Broadway, but if it does happen that will not be until after It's Only a Play closes on June 7. Martin Short, who took over for Lane in It's Only a Play, which was written by Terrance McNally, will finish his run on March 29.
Lane, who has won two Tonys (The Producers and A Funny Thing Happened on the Way to the Forum) and been nominated for two more (Guys and Dolls and The Nance), has received excellent reviews for his interpretation of Theodore Hickman in O'Neill's The Iceman Cometh, which also stars Brian Dennehy.