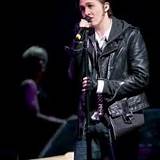 She has appeared as Yitzhak with four different Hedwigs since Hedwig and the Angry Inch started previews on March 29, 2014. The cult musical, which had been an Off-Broadway hit years before and then was produced around the world, opened on Broadway as a revival on April 22, 2014. Her replacement has yet to be announced.
Four Hedwigs
Hall, who won the Tony for Yitzhak, has appeared in Hedwig with Tony winner Neil Patrick Harris, Andrew Rannells, and Michael C. Hall. She is currently on stage with Hedwig co-creator John Cameron Mitchell. Hall has been in an array of shows, including Kinky Boots, The Toxic Avenger, Tarzan, Dracula, and 42nd Street.
Wanted that Role
Hall, who wrote a monologue for her Hedwig and the Angry Inch audition, was totally focused on landing the role in the musical. In a Playbill.com interview, she noted, "The soundtrack was a part of my life — a lot. I just listened to it, listened to it, lose it, buy it, listen to it, lose it, buy it, listen to it" She added, "So when I heard it was coming to Broadway I was like, 'I really want to go and audition for this part.' I knew the show well, and I knew the vibe of the show and how they would want to work. In my head, I was like, 'I'm going to go bold, or I'm not going to get it. I'm going to go for it. I want to surprise them ten times in my audition and really make it hard for them to say no to me,' because I wanted it so bad."
Next Project
Hall is making her debut at the Café Carlyle nightclub. She'll perform there from April 7-18. Also headed to the Café Carlyle is Tony-winner Alan Cumming. He'll play his show, Alan Cumming Sings Sappy Songs, from June 2-13 after Cabaret closes.
As was announced earlier, Mitchell will play his last show as the titular character on April 26. Darren Criss, of Glee fame, will become the next Hedwig on April 29. He'll perform a 12-week engagement. Criss was last seen on Broadway when he played J. Pierrepont Finch in the revival of How to Succeed in Business Without Really Trying.