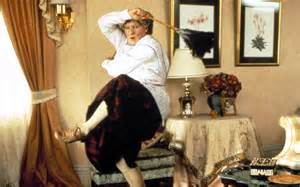 The hit film Mrs. Doubtfire, in which Robin Williams starred as a dad who cross-dresses and becomes an aging housekeeper in order to see his kids, is being made into a stage musical. The news was first heard in an interview on January 22nd broadcast Entertainment Weekly Radio with Oscar-winning composer Alan Menken.
Menken Makes the Announcement
Alan Menken revealed that he and David Zippel were writing the music and lyrics, respectively, for, Mrs. Doubtfire, and Harvey Fierstein the book. Menken and Zippel collaborated on the Disney animated film Hercules. Fierstein's latest hit is the long running musical Kinky Boots, which he co-wrote with Cyndi Lauper. Menken is presently represented on Broadway by the musical Aladdin.
Menken observed, "Harvey Fierstein is writing the book, David Zippel is writing the lyrics, I'm writing the music, and it's going very well. It's in its early stages, and that's probably all I can say. We're really enjoying working on it."
The Movie
The movie Mrs. Doubtfire was popular with fans when it came out in 1993, but it got mixed reviews from critics. Along with starring in the movie, Williams served as the producer. Other stars included Fierstein and Sally Fields.
Although it received low grades from some reviewers when it was first released, over the yearsMrs. Doubtfire has found some redemption. The movie was listed 67th in the American Film Institute's 100 Years, 100 Laughs: America's Funniest Movies, which is a ranking of the 100 funniest movies of the 20th century. Also, Bravo ranked it 40th on its list of 100 Funniest Movies of All Time.
Williams' Death
Williams, beloved by many as a comedian and actor, shocked the world this past August with his suicide. He was, at that time, preparing to star in the sequel to Mrs. Doubtfire. The musical is in its early stages of development.