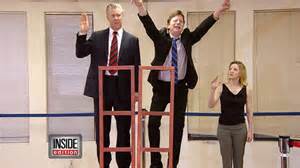 Clinton: the Musical, a satire that spoofs the eight years our 42nd president and his wife spent in the White House, will star Tom Galantich and Duke Lafoon as the president. Both Galantich and Lafoon possess a range of Broadway credits. Galantich has been in The Great White Way productions of Don't Dress for Dinner, Dirty Rotten Scoundrels, The Boys from Syracuse, Mamma Mia! and City of Angels. Lafoon has been in the Broadway productions of Casa Valentina, Nice Work If You Can Get It, Sister Act and Bye Bye Birdie.
Galantich and Lafoon will each portray a different side of Bill Clinton. Galantich will play WJ, who is the All-American, wholesome president, while Lafoon will portray Billy, who is the rapscallion, bad boy of the White House.
Other Cast Members
Clinton: The Musical has more than two actors. It's a full-length, full cast show, which includes John Treacy Egan as Newt Gingrich, Veronica Kuehn as Monica Lewinsky, Kerry Butler as Hillary Clinton, and Judy Gold as Eleanor Roosevelt. Kuehn made her Broadway debut in Mamma Mia! and has been in Avenue Q Off-Broadway.
The Creators
A pair of Australian brothers wrote Clinton: The Musical. The score is by Paul Hodge and the book by Paul Hodge and Michael Hodge. The idea for the musical came to Paul Hodge when he was on a family outing. At that time, he was seeing a musical in his homeland about a politician. His dad said, after seeing the musical with his son, "Oh, it was good, but politicians don't make good subjects for musicals. The only politician who would make a good subject for that would be Bill Clinton." Paul Hodge thought that his dad was onto something.
The Musical
The satire exploits the wide range of scandals, hijinks, rumors, and controversies that defined the Clinton years, including Bill Clinton's sax and sex appeal, moral reformers and FOB wannabes, and political one-upmanship and media miscues. The score includes 90s pop, standard musical theatre styles, and burlesque.
Important Dates
Clinton: The Musical will premiere at New World Stages on March 25 and will officially open on April 9. It's a change for audiences to relive history in a unique manner, as fodder for satire in a musical comedy.