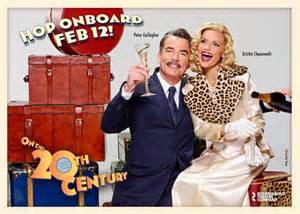 The Broadway revival of On the Twentieth Century, which was supposed to preview February 12, previews tonight. The Friday the 13th initial public performance, which is an odd one for those in the theatre, who are often quite superstitious, has been much anticipated due to the fact that two of Broadway's most respected musical talents, Kristin Chenoweth and Peter Gallagher, are playing opposite one another.
The Musical
On the Twentieth Century, which won five Tonys when it was first produced on Broadway in 1978, featured John Cullum, Madeline Khan, Imogene Coca, and Kevin Kline. The musical won Tonys for Best Book and Best Score. It has a book and lyrics by Betty Comden and Adolph Green and music by Cy Coleman.
The show is a crazy screwball comedy in which a down and out Broadway producer named Oscar Jaffe (Gallagher) attempts to convince his former lover and muse, Lily Garland (Chenoweth), to commit to play Mary Magdalene in a nonexistent Broadway drama. Jaffe believes that such a deal can resurrect his career, which is in a shambles. Garland, who is now a big Hollywood star, plays hard to get. The plot becomes exceedingly complex as they ride the luxury train, the Twentieth Century, across the country. Jaffe has various impediments thwarting his efforts, including Garland's jealous, young lover and an out-of-control religious fanatic. It is a wild comedy on rails.
The Principals
On the Twentieth Century, which is scheduled for a limited run ending July 5 and will officially open March 12, is directed by Scott Ellis and will play at the American Airlines Theatre. Chenoweth, who is a Tony and Emmy winner, and Gallagher, Who is a Tony nominee, are joined by Tony nominee Andy Karl, Mark Linn-Baker and Tony winners Michael McGrath and Mary Louise Wilson.
Break a leg to all involved in On the Twentieth Century!