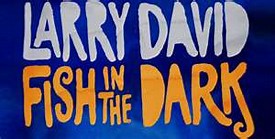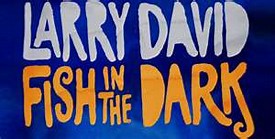 Larry David was christened last night, Monday, February 2, 2015. Symbolically, that is, as the sultan of the comic schlemiel and schlimazel performed for the first time on Broadway in the first play he's authored for The Great White Way. The Monday night crowd at the Cort Theatre had a sort of David laugh and love fest.
This is a show that has an automatic following, as two shows that he created, Seinfeld and Curb Your Enthusiasm (HBO), have had droves of loyal fans who love David's humor. In Seinfeld, Jason Alexander played the character based on David. In Curb Your Enthusiasm, David plays himself. The same seems to be true in Fish in the Dark.
The Premise of the Comedy
David has said that the comedy Fish in the Dark was inspired by the death of a friend's father. And although that situation may not seem to be fitting as inspiration for a comedy, in Larry David's world it is. The characters David plays are guys who dress sort of casual-sloppy, like what they like, and say what they think without any filter.
The focus of Fish in the Dark is on two brothers, one played by David and the other by Ben Shenkman. Together they attempt to deal with the death of their dad while life goes on around them. There are a lot of David moments, such as wondering if you should tip the doctor, asking is it okay to bring a date with you when you visit someone in the hospital, and wondering what country most looks like death itself? (It's Norway.)
What People Liked
From the moment David entered into the scene, the audience was enthralled. The theatre of fans saw the Larry David they know- the guy dressed in a floppy sport jacket, wearing a blousy T-shirt, ironed khakis, and comfortable sneakers. They were at home with him and with the lines he said and had written, some of which were straight from his HBO series. Those familiar lines seemed to sit just fine with the first night audience.
Many fans waited outside the stage door to catch a glimpse of David. The writer/actor signed autographs and clumsily chit chatted, noting that he had to do the show again tomorrow. Overall it was a good first preview for David and company. Fish in the Dark opens on March 5 for a limited run.