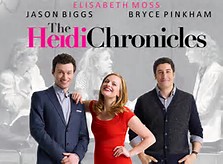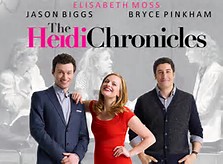 Four shows, including The Heidi Chronicles, will open on Broadway in March. The other three, Fish in the Dark, On the Twentieth Century, and The Audience, are already in previews. Which means that tonight The Heidi Chronicles completes the quarter of February previews destined for March openings.
The Cast and Creative Team
The revival of Wendy Wasserstein's Pulitzer Prize and Tony winning play includes "Mad Men" star Elisabeth Moss in the title role. Jason Biggs (The Graduate) plays Scoop Rosenbaum, a nebbish writer who has a flirtatious friendship with Heidi, and Bryce Pinkham (A Gentleman's Guide to Love and Murder, Ghost the Musical) appears as Peter Patrone, Heidi's gay best friend and sometimes conscience. Tracee Chimo is charged with creating the roles of Fran, Molly, Betsy and April.
Additional cast members include Ali Ahn as Susan Johnston, Leighton Bryan as Jill/Debbie/Lisa, Elise Kibler as Becky/Clara/Denise, and Andy Truschinski as Chris Boxer/Mark/Waiter/Ray.
Pam MacKinnon directs the revival of The Heidi Chronicles. MacKinnon won a 2013 Tony for her direction of the revival of Edward Albee's masterful Who's Afraid of Virginia Woolf? The production of Wasserstein's play includes scenic design by John Lee Beatty, costume design by Jessica Pabst, and lighting design by Japhy Weideman. In addition, sound design is by Jill BC Du Boff, projection design by Peter Nigrini, and hair and make-up design by Leah J. Loukas.
The Play
The Heidi Chronicles focuses on what were some of Wasserstein's favorite themes, including the changing roles of women in America from the 1960s through the 1980s, defining and redefining family and love, and how women must constantly choose between what they want and what society dictates they should be.
The plot concerns Heidi Holland, tracing her life's path from high school in the 1960s to her career as a successful art historian and her choice to be a single mom by adopting a baby more than twenty years later. As Heidi encounters various situations, trends, and opportunities throughout the years, we see her awaken to the call of feminism in the 1970s, only to feel betrayed by the movement in the 1980s.
Opening Nights
The four March shows are scheduled to open in the following order- March 5th Fish in the Dark (Cort), March 8th The Audience (Gerald Schoenfeld), March 12th On the Twentieth Century (American Airlines), and March 19th The Heidi Chronicles (Music Box).