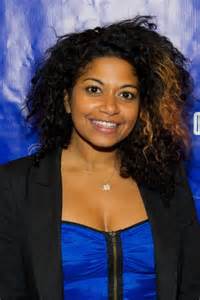 Rebecca Naomi Jones will be in Tony-winner Lena Hall's stead and play Yitzhak in the hit musical Hedwig and the Angry Inch. Hall leaves April 4 and Jones will begin performing April 14. In that interim understudy Shannon Conley will play the role. Jones, who is currently Off-Broadway in Charles Mee's Big Love at the Signature Theatre, has appeared on Broadway in American Idiot and Passing Strange.
Hedwig
Hedwig and the Angry Inch, which has been enjoying a successful Broadway run at the Belasco Theatre, won multiple Tonys last season. Written by Mitchell, who currently stars as the title character, and featuring a score by Stephen Trask, Hedwig and the Angry Inch is about a transgender woman (Hedwig) from East Berlin whose sex change went array. The woman is part of a rock and roll band that she feels has not been given proper recognition. Her remembrances are simultaneously painful and funny, as she reveals her deepest feelings to the audience. The score features the songs "Tear Me Down," "Wig in a Box," "Wicked Little Town," "The Origin of Love," and "Angry Inch."
Mitchell Leaving
Mitchell is scheduled to depart from Hedwig and the Angry Inch on April 26. Then on April 29, Darren Criss (Glee) will take up the torch for a 12-week run. The musical, which became an Off-Broadway hit in 1998, open on Broadway in 2014, winning the Tony for Best Revival of a Musical. The show won eight Tonys and also received the Drama Desk Award for Outstanding Revival of a Musical.