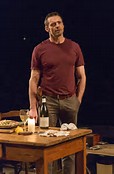 Box office numbers for the week ending February 1, 2015 published by The Broadway League revealed the impact that the weather had on shows during the final week of January 2015. In terms of capacity, productions that struggled included On the Town (48.51%) and Honeymoon in Vegas (54.17%).
Others that came in on the low side included You Can't Take It With You (58.08%), Mamma Mia! (64.90%), and Chicago (65.45%). Of those shows, Mamma Mia! and Chicago lost performances due to the weather forecast. The weather-shortened weekend caused grosses to fall from $21,335,320 the week before to $17,504,766 the week ending Feb. 1.
The River Going Strong
The River, starring Hugh Jackman, showed strength, selling 100.13% capacity. The play, which is at Circle in the Square, will close on February 8. Book of Mormon continued to play at over 100% and to out-gross all shows, bringing in $1,423,750. The top grossing shows that were second, third, and fourth were all family oriented musicals with The Lion King bringing $1,337,983, Wicked seeing $1,291,035, and Aladdin selling $1,119,398 worth of tickets.
Fifth on the list was the revival of the Bernard Pomeranz play, The Elephant Man, starring Bradley Cooper. The show, which will transfer to London, grossed $976,936 last week.
Not Just the Weather
Although slumping box office numbers can be blamed on the weather, it's more than that. It seems as if this Broadway season many of the new productions have failed to capture the interest of the public, despite the fact that various shows have garnered very strong reviews.
Perhaps the announcement of the Tony nominees on April 28, 2015, will help some shows. Unfortunately, Sting's The Last Ship could not sustain itself to possibly benefit from the awards. The musical, which did receive good notices, closed on January 24. The Tony Awards will be broadcast live from Radio City Music Hall on June 7, 2015 on CBS.
Everyone will be carefully eyeing February's weekly numbers. There should be a flurry of Broadway activity in March and April when four shows open in March and 14 more take to the Broadway boards in April just before the Tony cutoff date. Numbers usually spike upwards at that time.