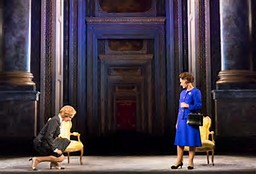 Helen Mirren in The Audience had a big first week, selling at 101.1%. That number is based on a short two-performance week. However, it's expected that Mirren, who won an Olivier a few years ago for The Audience, will do big box office during her limited New York run.
Larry David's comedy Fish in the Dark continued selling beyond capacity. The comedy realized a .5% increase over the week prior, filling the Cort Theatre at 101.6%, which was third for all shows on Broadway. The comedy earned $21,703 more than it did the week before.
Topping out the capacity stats was The Book of Mormon at 102.6%. The musical came in second in grosses, bringing in a total of $1,648,502. The Lion King was first in terms of gross, realizing $1,726,042, while filling 98.9% of its seats.
On the Twentieth Century
In its first weekend, the revival of On the Twentieth Century gave four performances and sold at 96.5% capacity. The madcap musical, which is produced by the Roundabout, stars Kristin Chenoweth and Peter Gallagher. It will be interesting to see if it does better than Honeymoon in Vegas and On the Town, both of which, until this past week, have seen sales slump.
Honeymoon and On the Town
Honeymoon in Vegas enjoyed the biggest gain in capacity of any show on Broadway. The musical sold at 64.9%, which marks a 13.6% jump from last week. Its gross receipts were at $491,146, which was an increase of $131,983 over last week.
The other show that witnessed a marked increase was On the Town. The 13.1% rise in capacity meant that the show sold at 49.3%, realizing $172,536 more in gross receipts, which totaled $552,450 for the week.
Other Box Office news
The Elephant Man was at 101.7%, up 1.5%, while Cabaret rose by 2.5%, coming in at 100.5%. The Elephant Man, which stars Oscar nominee Bradley Cooper (American Sniper), closes this week just before the statuettes are given out, and Cabaret, which stars Oscar nominee Emma Stone (Birdman), saw Stone play her final performances this week. It's said that the nominations helped both productions get added attention and increased ticket sales.
Sales on the Rise
With 18 new productions opening in March and April, eventual improvement in the weather, and Tony buzz developing, we should expect to see ticket sales for Broadway shows continue to rise.
(Note: All figures from this report were provided by the Broadway League. )