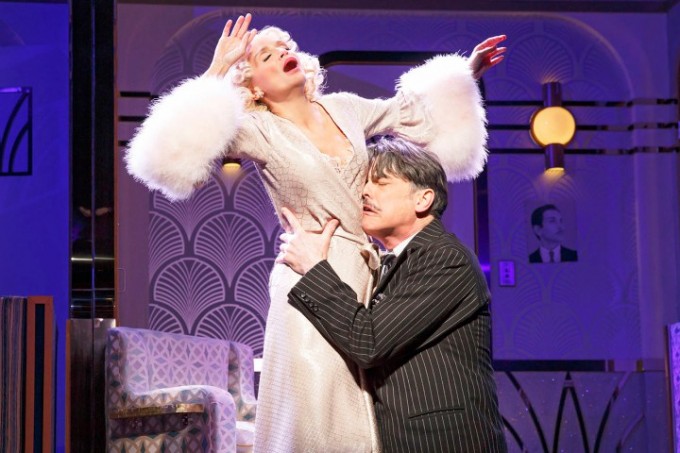 Peter Gallagher is still recovering from a serious sinus infection and that means that he was not seen on stage tonight in the revival of the Tony Award winning musical On the Twentieth Century. He is now expected to be on stage for the Saturday, March 7 evening performance. Gallagher has been out since the evening of February 21. The Roundabout cancelled the evening performance that night and the next day Gallagher's understudy, James Moye, play the role of Oscar Jaffe. Moye, who usually plays Max Jacobs, has been filling in for Gallagher ever since, playing opposite Tony and Emmy winner Kristin Chenoweth (Lily Garland)
Postponements and Cancellations
On the Twentieth Century has already had numerous cancellations and postponements. The producers changed the first preview by one day due to setbacks caused by dismal winter weather. Then there was the cancellation of the Saturday night preview performance due to Gallagher's illness and the need to offer Moye more rehearsal time. Recently, the Roundabout put off opening night, opting to offer the official opening on March 15 rather than March 13. The show is being performed at the American Airlines Theatre and it's directed by Scott Ellis.
The Show
On the Twentieth Century, which was nominated for nine Tonys when it premiered in 1978, winning five, is a crazy comedy that takes place on a luxury train that's named The Twentieth Century. The train is brimming with a wide range of unique and comical characters, including desperate Broadway producer Oscar Jaffe, former Broadway star and now film queen Lily Garland, Garland's jealous and egotistical boyfriend, and a crazed but extremely benign religious zealot.
As the train travels along it's predetermined destination, characters are side tracked and driven. The various characters collide to create mayhem, madness, and mischief. There are wonderful comic scenes, great gags and lines, and a lot of wonderful duets, solos, and production numbers.
The original production ofOn the Twentieth Century received five, including Best Book and Best Score. It was also nominated for four Drama Desk Awards, winning four including Outstanding Music.