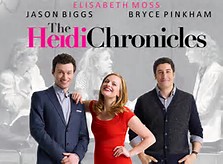 Late April marks the deadline for Tony nominations and that means there will be a few new shows opening on Broadway in March and then 14 in April. During the next two months, a total of 18 new shows, more than have premiered in the other 10 months of the 2014-2015 theatre season, will make their way to a Broadway stage. Here is a thumbnail sketch of what is opening in March.
Fish in the Dark (Opens March 5; Cort Theatre)
It is the first Broadway comedy by Seinfeld co-creator and Curb Your Enthusiasm creator Larry David. The March 5, 2015 opening is a fait accompli, as Fish in the Dark has been selling at over 100% capacity and there is no end in sight to that phenomenon, except for the fact that the show is in a limited run and will be closing June 14, 2015. David fans have lined up to buy tickets to the show and are enthusiastic about the play and the chance to see David on stage.
The cast, which numbers 18, includes Larry David as Norman Drexel, Rosie Perez as Fabiana Melendez, Jayne Houdyshell as Gloria Drexel, and Jake Cannavale as Diego Melendez. Other cast members included Jerry Adler as Sidney Drexel, Rita Wilson as Brenda, Drexel, and Ben Shenkman as Arthur Drexel.
The dark comedy is about a son who loses his dad to death and how he and the rest of the family deal with the event.
The Audience (Opens March 8; Gerald Schoenfeld Theatre)
Helen Mirren has crossed the pond and is presently in previews in The Audience, playing Elizabeth II in the play which earned her an Olivier Award about three years ago. The Audience takes as its starting point a historical fact: every week for the past 60 years Queen Elizabeth II has had a private, secret meeting with her Prime Minister. No one knows what has been said in such meetings. Playwright Peter Morgan has created a series of scenes detailing individual meetings between the 12 Prime Ministers and one Queen that have served England for six decades. Mirren, a consummate actress, will be on Broadway through June 28, 2015. The show is selling at close to 100%.
On the Twentieth Century (Opens March 12; American Airlines Theatre)
There's been a lot of press about the first Broadway revival of the Tony winning musical On the Twentieth Century. The musical, which has music by Cy Coleman and book and lyrics by Betty Comden and Adolph Green, is about a Broadway producer, Oscar Jaffe, who is desperate for a hit show. Jaffe's professional life is in a shambles and believes that his former love and muse, Lily Garland, can save his career if he can get her to star in his next Broadway production. They board the luxury train the Twentieth Century, along with Garland's jealous lover and an obsessed, hyperactive Christian, and as they cross the country old relationships are rekindled, jealousies surface, and mayhem ensues. It is an all stops out, no holds barred musical farce.
The revival of On the Twentieth Century stars Peter Gallagher as Oscar Jaffe and Kristin Chenoweth as Lily Garland. Gallagher has been ill of late and has missed a week's worth of performances. He's due to be back on stage starting Tuesday, March 3. The show has been selling at approximately 98% capacity.
The Heidi Chronicles (Opens March 19; Music Box Theatre)
The cast of The Heidi Chronicles includes Elisabeth Moss as Heidi Holland, Jason Biggs as Scoop Rosenbaum, and Bryce Pinkham as Peter Patrone, That is an exciting triumvirate of actors for the first Broadway revival of Wendy Wasserstein's 1989 Pulitzer and Tony Award wining comedy.
The Heidi Chronicles focuses on the life of Heidi Holland and details her journey as a high school student in the 1960s, through her college and early professional years in the 70s, and into the 80s where she finally finds a balance of some sort between love, family, intimacy, and career. Wasserstein adeptly captures characters in respective eras and adroitly details their emotions, challenges, disillusionments, frustrations, and triumphs. In her comedy, Wasserstein investigates redefining family, love, and motherhood as the end of the 20th century nears.
Some of What to Expect in April
There's a lot more to preview in March including Chita Rivera in the Kander, Ebb and McNally musical The Visit, the dark comedy Hand to God, and the romantic comedy Living on Love with opera superstar Renee Fleming making her Broadway debut. Also coming in April will be the Broadway premiere of the Gershwin musical An American in Paris, with a book by Craig Lucas, the musical adaptation of the epic Doctor Zhivago, and the new musical about how J.M. Barrie discovered Peter Pan, finding Neverland.