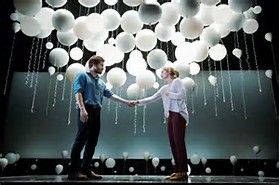 There are no shows scheduled to open on Broadway in February. Since the start of 2015, two shows have premiered- Constellations (January 13, 2015, Samuel J. Friedman) and Honeymoon in Vegas (January 15, 2015, Nederlander). The 2014-2015 Broadway theatre season, which started in June with the premiere of Holler If Ya Hear Me (June 19, 2014, Palace), saw a total of 17 openings through to the end of December.
That means a majority of the shows on Broadway will open in what are the final four months of the season, which officially closes just before the Tony nominations on April 28.
March Openings
Once again, in March, Broadway will be abuzz with the opening of two new plays and the revival of a play and a musical. On March 5, the Larry David comedy Fish in the Dark opens at the Cort. Three days later, on March 8, The Audience, starring Helen Mirren, will premiere at the Gerald Schoenfeld. The Audience focuses on the secret weekly meetings that Queen Elizabeth II held with her various prime ministers.
March 12 sees the first major Broadway revival of the Cy Coleman, Betty Comden, and Adolph Green musical On the Twentieth Century (American Airlines). When On the Twentieth Century premiered in 1978 it won six Tonys, the most for that season. The revival stars Kristin Chenoweth and Peter Gallagher.
Wendy Wasserstein's Pulitzer Prize winning play The Heidi Chronicles opens on March 19 at the Music Box. This is the first revival of this play, which will star Elizabeth Moss, Jason Biggs, and Bryce Pinkham.
April on Broadway
April is filled with new productions. In fact, with 14 openings, April stands as the most active month on Broadway for the 2014-2015 season. Included will be the screen to stage adaptation of the classic Gene Kelley film An American in Paris (April 12).
Other new musicals include the Off-Broadway transfer of the musical comedy It Shoulda Been You (April 14), the Broadway premiere of the epic Doctor Zhivago (April 21), the Kander and Ebb adaptation of The Visit (April 23) starring Chita Rivera, and American Repertory Theatre's production of Finding Neverland (April 16). Other musical revivals include The King and I with Kelli O'Hara (April 15) and Gigi (April 8) with High School Musical star Vanessa Hudgens.
There Will Probably Be More
Chances are there will be one or two more shows crammed into the Broadway schedule prior to the Tonys, as producers race to the finish line to try to mount an award-winning production. The more the merrier when it comes to competing for the ultimate stage award.