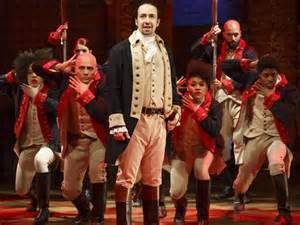 Lin-Manuel Miranda, a Tony, Drama Desk, Grammy, and Emmy winner, has a new musical and it will be on Broadway this summer. The musical, Hamilton, will start previews on July 16 at the Richard Rodgers Theatre. Miranda, who created the highly acclaimed musical In the Heights, is presently enjoying an extended run of Hamilton at the Public Theatre. Hamilton, which will play at the Public's Newman theatre through May 3 in what is a sold out run, will replace If/Then at the Richard Rodgers. If/Then ends its Broadway run on Match 22. Hamilton opened at the Public on February 17 to rave reviews and was extended quickly.
Hamilton
Hamilton is a hip-hop musical about the United State's first Secretary of the Treasury Alexander Hamilton. Lin-Manuel Miranda, who wrote the book, music, and lyrics for the show, also stars in it.
The musical tells the story of the birth of the U.S. We see how America was created through the character of Hamilton. There's a stress on the immigrant, orphaned background of "the $10 Founding Father without a father." The musical investigates and exposes various aspects of Hamilton, including his ambition, ego, and vices. The man who would kill him in a duel, Aaron Burr, ironically narrates the tale.
The same team that created In the Heights is responsible for Hamilton. Along with Miranda, there's director Thomas Kail and choreographer Andy Blankenbuehler.
Playbill Interview
Miranda explained in a Playbill interview as to the fact that he wasn't thinking about whether the show might make it to Broadway for the 2014-15 season or the next one. But, as he observed, there was a lot of excitement once the reviews came out.
He told Playbill, "And then it got a lot louder around us last Tuesday, when we opened and the world freaked out. And, it's been incredibly humbling and incredibly gratifying. We talked about all the options on the table, and opening this summer allows people who can't get tickets to get tickets next Sunday, and that's really exciting for me. It also allows us to make a cast album sooner than later because we have a break in May, when we can actually put that into motion — where I'm not doing the show and thinking about the show all the time, so it allows everything to happen in the pace at which it should."
Tickets Go On Sale
Tickets to the Broadway run of the new musical Hamilton will go on sale March 8. It will be one of the first shows, if not the first, of the 2015-16 Broadway season.