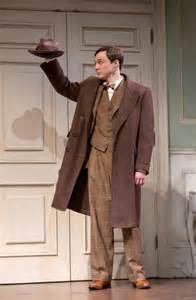 Emmy winner and Big Bang Theory star Jim Parsons will play the ultimate roe, God, in the Roundabout production of An Act of God. An Act of God, which is being adapted by David Javerbaum, who wrote the book of the same name, will preview May 5, 2015, at Studio 54 and will open on May 28 for a limited run. Parson played Elwood P. Dowd in the Roundabout's crucially acclaimed revival of the comedy Harvey.
About the Author
As a former executive producer and writer of The Daily Show with John Stewart, Javerbaum won 11 Emmys. He won two more for his work with co-writer Adam Schlesinger in creating two songs for Neil Patrick Harris for two different Tony telecasts, including the opening number for the 2011 show, which featured the hook that Broadway's "not just for gays anymore." Javerbaum with co-writer Schlesinger was also nominated for a 2008 Tony for the score of the musical Cry-Baby.
Javerbaum commented on his upcoming production of the play An Act of God, saying, "I am deeply disappointed that Jeffrey Finn has decided to produce this show. It will force me to continue my unwanted professional association with God, an abstract entity who has given me nothing but discomfort and agita. It is my desperate hope that we close out of town."
The Play
Not a lot is presently known about the show except that it is not a musical and it will certainly be a comedy. When it was initially published in 2011 the book was described by the Washington Post as being "like The Bible, if The Bible were narrated by Mel Brooks on crack-laced manna," while the New York Times said that it was "fearless…. A recklessly funny series of gags about all things religious and quite a few things secular too."
More information will be forthcoming about An Act of God.