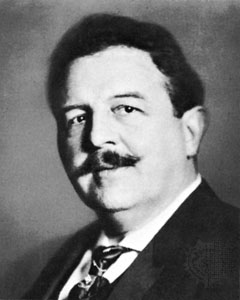 Schwartz, Gershwin, Schonberg, Menken, Kander, Ebb, and Webber: What do these names have in common? They represent names of musical composers whose music is currently represented on the Great White Way! Names that would not have become so well known in musical theatre if it had not been for one great Irish-born composer: Victor Herbert!
The Climb to the Top
On first looking at old pictures of Herbert, the first striking trait is the mustache. He probably twirled the ends of it nervously during long periods of composing alone in his New York flat.
Herbert's mustache gained some acclaim because his wife Therese Förster came to New York with him to sing at the Met for a season of Wagner. He got some associative fame as her pianist and then skyrocketed into the New York scene from there! His goals as a composer were to create work within a "folk theatre" scope that was reminiscent of Harrigan and Hart, a vaudevillian duo of comedic composers who also performed in NYC. Herbert's first productions are considered "Light operas" and he was the best at writing during the turn of the 19th century. He and his twirling mustache made famous the song, "Gypsy Love Song" from The Fortune Teller (1898) that is shown here in this video performed by the Robert Shaw Chorale from 1976:
Always a Backlash
Of course, Herbert didn't have it easy with the critics all the time. When he first came to the United States, his first job was as bandmaster for the 22nd New York National Guard Band. Critics found his ascension to composing fame to be appalling because they believed a job as a bandmaster was completely lowbrow! To think that this man should be allowed to twirl his mustache on the New York stage annoyed them. At the fame of The Fortune Teller, critics scoffed and called him a plagiarist of better composers. Unfortunately for them, their hateful words have not lasted as long as his influence on the musical comedy!
What He Gave Us
Herbert's constant mustache twirling and composing gave the musical comedy a need for great music accompanied by a strong libretto. Though he was born in Ireland, studied in Germany, and then immigrated to the United States, his composing style helped to give identity to American musical theatre with his marches, waltzes, and ballads. Much like Antonin Dvorak and the New World Symphony, his appearance in the United States and experience of American patriotism helped him to identify us and himself as a composer in the New World.