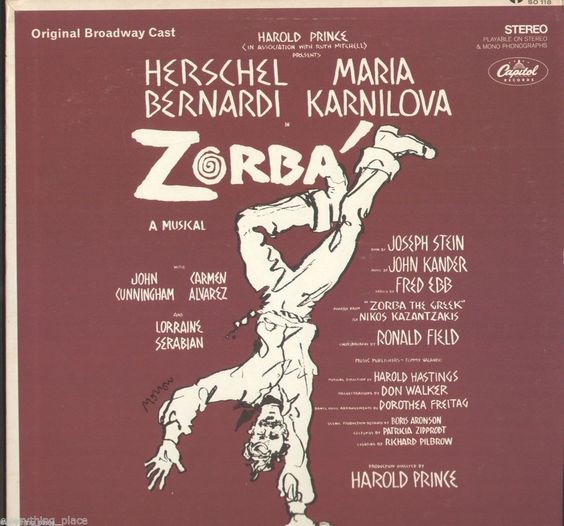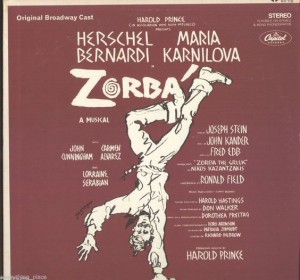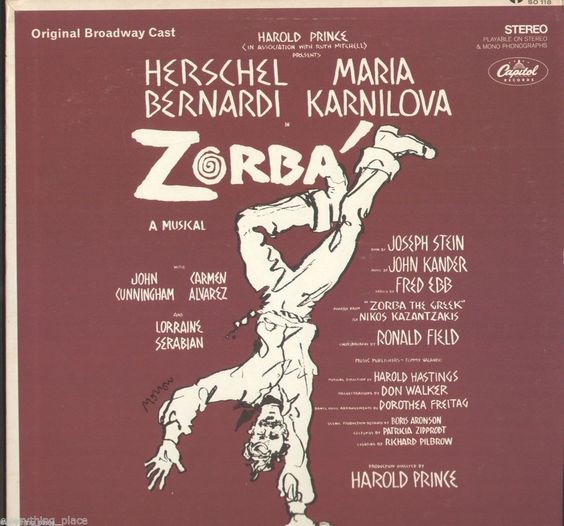 On this day in 1968, a new musical by Kander and Ebb opened at the Imperial Theatre on Broadway. The musical was Zorba!. Set on the island of Crete, this musical deals with the inheritance of power, unrequited love, and vengeance: all the things that sum up Greek life! It lost to 1776 for Best Musical in 1969, but it continues to be produced around the world today.
From Book to Stage to Screen
Based on the Greek novel, Zorba the Greek by Nikos Kazantakis, the narrator gains control over a mine on the island of Crete. Nikos becomes friends with an energetic older man named Zorba who teaches him about life and living it to the fullest. Meanwhile, Crete is filled with tragedy. The widow of the man Nikos inherited the mine from, has an affair with a youth on the island. The youth commits suicide when his love for the widow is not reciprocated. Shortly after, the boy's family looks to gain revenge from the widow and murders her. These tragic events test Nikos' newfound excitement for life.
"The Bend of the Road"
The original actors in the production included Herchel Bernardi as Zorba(Fiddler on the Roof), Maria Karnilova (Fiddler on the Roof OBC), Carmen Alzarez (Bye Bye Birdie), and John Cunningham (Cabaret). Though the production didn't get the best reviews, more productions came along to star some big names! John Raitt and Chita Rivera performed in the US Tour in the 1970s and last year, the New York City Center produced the show in their Encores! series. This production starred John Turturro, Zoe Wanamaker, and Marin Mazzie.
"That's a Beginning"
Do you remember the film production of the show? Can you remember the 1969 Tony Award performance? Maybe you can just remember the production of the 1983 revival at the Tonys! Whatever you can't remember, there is a website for that! YouTube has the '69 Tony Award performance of "Life Is".
Was this a musical favorite of yours or just a more depressing version of Fiddler on the Roof? Let us know on Twitter!