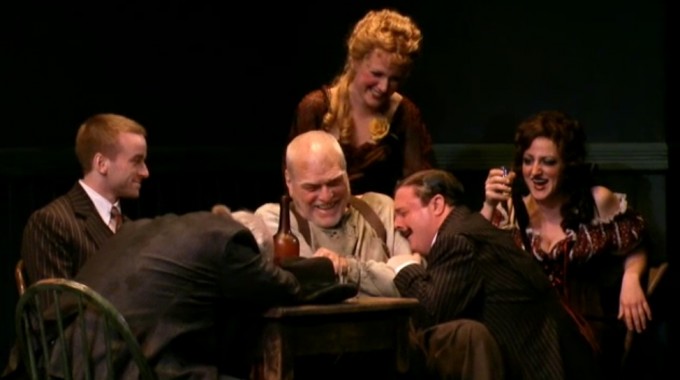 In 2012, Robert Falls directed Eugene O'Neill'sThe Iceman Cometh with Nathan Lane, Brian Dennehy, and an amazing ensemble cast. The Goodman run was extended, as Falls managed to capture the various essences O'Neill's down and out characters, the ebb and flow of their desperate lives turning slowly towards death, and the hope of hopelessness than surrounds this sometimes funny but always dark drama.
The Iceman Cometh is one of those plays that one only attempts when one is ready to scale the ultimate artistic challenge, and Falls and company not only took on the challenge in 2012, but also succeeded mightily. The production has been remounted at the Brooklyn Academy of Music. It began previews February 5 and opened February 12. Once again, Lane and company have received high praise from reviewers and have captured and held the attention of audiences in a production that runs more than four hours.
The Play
Nathan Lane plays Theodore "Hickey" Hickman, a salesman who saunters into Harry Hope's saloon and flophouse when he has a hankering and treats everyone to jokes, drinks, and a good time. It is a bar whose patrons include those who are down and out, washed up, and on the verge of destruction. Old men, prostitutes, former warriors, pimps, and more live their lives out at Hope's, as they mix alcohol, smoke, and pipe dreams to create a powerful concoction designed to hide the realities of their dwindling existences.
This is not an easy play to watch, but just as we are attracted to the real life tragedies of others, audiences become transfixed on this collection of characters. That is if the play is expertly conceptualized, directed, designed, and acted. The reports are it is by Falls and company.
The Reviews
Lane, who recently finished his run in the comedy It's Only a Play in order to appear inThe Iceman Cometh, has won great praise. The New York Times observes, "I should begin with a lusty bravo for Nathan Lane, who climbs the mighty Everest of the play's most challenging role, the salesman Hickey who harbors a grim secret, with a restless energy that never fails to impress…As an acting feat, one might compare this to emerging from a bubble bath only to swan-dive into a frozen pond — daunting to contemplate, let alone accomplish."
In reference to Dennehy as Larry Slade, USA notes, "…here, hunched and subdued, the 76-year-old actor embodies the frailty and disgust of a man who has given up on life but is afraid, more than he'll admit, of death. Even during his silent passages, you can't stop watching him, watching Hickey and the rest."
Variety observes, as others have, that John Douglas "is downright riveting as Joe Mott, the former owner of a Negro gambling house who only needs a decent stake to step back into his old life — provided he can keep his towering rage in check."
The NY Daily News says succinctly what is echoed in other reviews when it writes, "Stephen Ouimette is ultimately a heartbreaker as the bar's owner. His name, thanks to sly authorial irony, is Harry Hope. There' not much of that stuff for him and his customers. Hopeless would be a more fitting surname."
The production as an entity has received plaudits from all. The word is this is the show to see if you want to see some of the best acting either on or off Broadway this theatrical season.
Limited Run
The Iceman Cometh is scheduled to run for one-month Off-Broadway at BAM, closing on March 15. The four-act play's total running time is 4 hours and 45 minutes and offers audiences a harrowing and revelatory exploration of the lives of the downtrodden and beaten. It is O'Neill at his best.