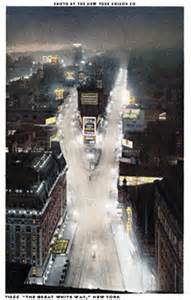 The Golden Age of American Theatre is considered to have lasted about 40 years, depending upon how you define it. Starting sometime around 1915 and lasting until sometime in the late 1950s to early 1960s, it was a time that saw the Little Theatre Movement develop, the Harlem Renaissance bloom, Broadway houses multiply and then decline, and great works that defined the American theatre and made the rest of the world respect our dramatists, composers, and lyricists come into being. Broadway was the central focus of this period of stage enlightenment.
It was a heady time that included groundbreaking works such as The Emperor Jones, Show Boat, Mulatto, The Adding Machine, Death of a Salesman, A Streetcar Named Desire, and Oklahoma!, as well as many more works that would define and redefine the voice, vision, and vocabulary of the American Stage. It set new standards for the stage and made Broadway theatres the most coveted and admired venues in the world.
Ingredients for a Golden Age of Theatre
There are certain periods, instances in history, where theatre has reached unprecedented artistic heights. These may be chronicled quickly, as typical periods that make it on the list are Ancient Athens, Ancient Roman Theatre, English Renaissance, the Spanish Golden Age, Japanese Kabuki and Noh Theatre, and French Neoclassicism. Golden Ages tend to be defined specifically within a nation's or region's borders.
Overall, certain elements seem to be in place for a Golden Age of Theatre to develop and exist. These include:
A nation or region dominating as a military power
A burgeoning economy
The move towards developing an identity or a "national" voice
A desire to express that voice through the performing arts
Theatre that has been made accessible to all
Interestingly enough, most of these times when theatre flourished were also times of strict control by the government. Also, these ages have tended to be defined first by the dramatic literature that was created, and thus, theatre that primarily featured innovative scenography, highly developed physical acting, or other such artistic endeavors that are not chronicled by written scripts, have been left out of the mix by scholars.
Finally, Golden Ages tend to be short-lived overall, with spans ranging from 50 to 100 years. Perhaps because the national energies that created them also tend to last about that long or maybe due to the fact that these periods tend to be times of national unity, and such occasions are rare and limited in time.
Can There Be a New Golden Age in US?
After the 1960s, the American theatre changed drastically as the Regional Theatre Movement and Off-Broadway started to take focus away from Broadway. In 1992 Robert Schenkkan's The Kentucky Cycle won the Pulitzer Prize for Drama. That marked the first time that the prestigious award was given to a play prior to it coming to New York. Again and again this would be the case with the Pulitzer. This change was emblematic and indicative of the decentralization of American theatre.
And that is where this question concerning a "new" Golden Age is posed. Can there be a Golden Age if New York and Broadway are no longer the central staging grounds for new works? In addition, can there be a new age of greatness if Broadway theatre, due to extravagant ticket prices, is inaccessible to so many Americans, if our national voice is so diversified, and if the theatre now has so many entertainment rivals, including the Internet and the various types of media available through it, TV, and film. All of these factors conspire against a Golden Age.
Additionally, the whole communal experience of the theatre runs contrary to how we live our lives. The days of sitting down to dinner at a table with friends and family is a past memory for most. There was a time when TVs and radios were shut off, everyone was called to the table, and people ate together and conversed.
We can now access anything we want on our phones, which are really high powered computers, and so many of us sit in groups eating, meeting, and sometimes chatting, as our visions are firmly fixed on these devices, or, we simply sit along with our Android, iPhone, tablet, or laptop, paying attention to whatever screen it lit up in front of us.
The Stage Is Set
To have another Golden Age of Theatre in America, we may have to redefine exactly what constitutes such. New elements might include:
A stable national government that is defined by diversity
A vital economy that includes a rising middle class
Regional movements that connect to communities
A national theatre festival made up of regional productions
Theatre experiences that find their dynamics in the basics- strong acting, scripts, and direction
Ticket prices to theatre performances and programs that make such affordable for all
Such an age would need a confluence of factors and elements that are in the offing, and that may never come together at all. All may be influenced by and many may be initiated by creative people who are committed to the art form and those who are well heeled enough to support it. One important ingredient that every great age of theatre has had that is not on our list is a few key people with foresight, creativity, and energy who possessed the bravery to take on new challenges, see things that others could not, and make them come alive in the form of theatrical performance.