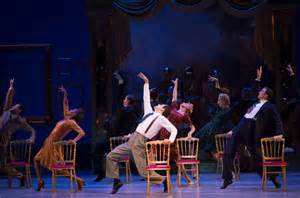 In 2011, the New York Times Arts Beat blog offered an article entitled "The Staggering Cost of Broadway." In it, writer Patrick Healy referenced the revival of Harold Pinter's Betrayal, a three-character drama that had recently been produced in London and was transferring to Broadway. In interviewing London producer Sonia Friedman about the hit production, it became clear exactly how costly it is to produce a play on Broadway.
Healy wrote, "This 'Betrayal' revival cost £350,000 (about $565,000) to mount in the West End, Ms. Friedman said, and an additional £65,000 ($105,000) to pay weekly running costs. By comparison, she estimates that the same production would cost about $2.8 million to mount on Broadway — the standard amount for a commercial play production — and an additional $260,000 or so to run each week."
Why So Costly?
A Broadway show costs, at minimum, $2.5 million to mount. The musical Next to Normal had a production bill of about $4 million and The Book of Mormon cost approximately $9 million. The question is why, and the other question is what effect do expansive budgets have on Broadway?
Why it costs so much has to do, in general, with the high price of doing business in New York City, and specifically on Broadway. First of all, Broadway contracting through unions can be challenging. Union agreements are very specific in terms of not only how much people are paid but how many people must be hired. These contracts cover crews, technicians, musicians, and others. Salaries are high, it's expensive to build, move, and put in sets and tech shows, theatre rentals are high, and advertising budgets have skyrocketed.
What does the theatre in London have that New York does not? The answer is flexibility in contracts. That lack of "give" in Broadway contracts results in more "take" on the part of producers. From whom do the producers "take?" That would be from those who go to the theatre.
The Cost of Tickets
In an article published on June 10, 2014, the Los Angeles Times noted that for the first time in the history of the Great White Way the average ticket price for a Broadway ticket surpassed $100. The average cost for a ticket was $103.88, and that was up 5.5% from last season when the average price was $98.42. Of course, that is the average price. Many shows sell tickets for more than $150 a pop and, also, for less than $50.
But the point is it is very expensive for patrons to go and see a Broadway show. A family of four can spend $600 on tickets alone; add in transportation, parking, and a possible meal and the price tag for an evening at the theatre can hit $800 plus.
For the past five seasons, the average rise in Broadway ticket prices has been 6.8%. The average yearly inflation rate for that same period was as low as 1.47% and as high as 3.16%. The average rate of inflation for those five years was 2.04%. Yet, Broadway ticket prices rose three times more than the rate of inflation.
Like the Weather
With that being the case, shouldn't everyone involved in Broadway be asking if something's askew? People ask, but, like the weather, everyone complains about the prices of going to Broadway. but no one does anything about them. And perhaps like climate change, many seem to care little of the anomaly that rapidly rising ticket prices, associated possibly with the cost of doing business, are having on the Broadway theatre.
The interesting thing is that in some years Broadway ticket sales have been up. In 2013-2014, the number of people who went to a show rose by 5.5% over the year before. However, the year before was dismal as far as ticket sales were concerned. Also, grosses rose in 2013-2014 by 11.4% over the previous year. Interestingly, that's double rate of the increase in ticket sales.
However, if we compare those ticket sales to 2012-2013, the year before, when they were down by 6.2%, the increase of 5.5% is not as substantial as we're led to believe. The Broadway League extolled the rise, but put in context it was actually fairly weak.
Consider, if sales were down 6.2% one season and went up 5.5% the next, they were still off by 0.7%, as they had not fully recovered. A healthy season would have seen them rise by 8% to 9%. And although Broadway had not fully recovered from its attendance drop, it certainly did in terms of grosses, as Broadway shows grossed a total of $1.14 billion in 2012-2013 and then $1.27 billion in 2013-2014.
Will Broadway Collapse Under Its Own Weight?
Although a Broadway collapse may seem ridiculous to some, such an event is not impossible. As far as we can tell, most theatre movements, styles and genres, and venues eventually fade away, are transformed into new entities, come a resounding crash. Those in the U.S. that have gone by the wayside include the Lyceum Circuit, Vaudeville, and Burlesque. All were very popular forms of entertainment. We can go back as far as Ancient Athens when Greek Tragedy disappeared from the stage after about an 80-year run. That was, partly, economically based.
Broadway shows are exceedingly expensive to produce, ticket prices continue to rise, and it becomes more and more difficult for producers to make a profit. In Shakespeare's day the play was the thing and production costs, theatre rentals, and ticket prices were low. We might look to that era for some basic answers to some tough questions.